By Shandi Greve Penrod, IHLS Marketing Coordinator
published  4/03/2020  4:03 PM CT
updated  4/13/2020 10:04 PM CT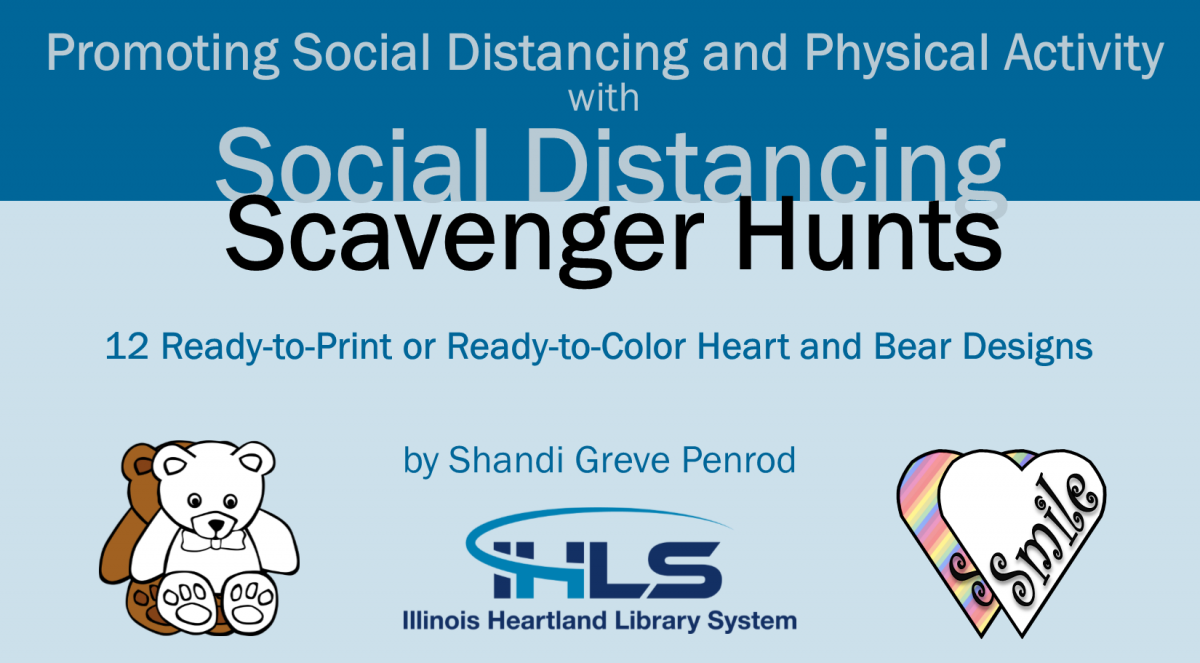 Heart displays have popped up around Illinois and across the country.
Photo credits: Inspirational hearts on a glass door, Laura Schmidgall via Heart Hunters Facebook Group, used with permission. Paper dragon blowing hearts, Kendra Hunt via the Heart HuntersFacebook Group, used with permission.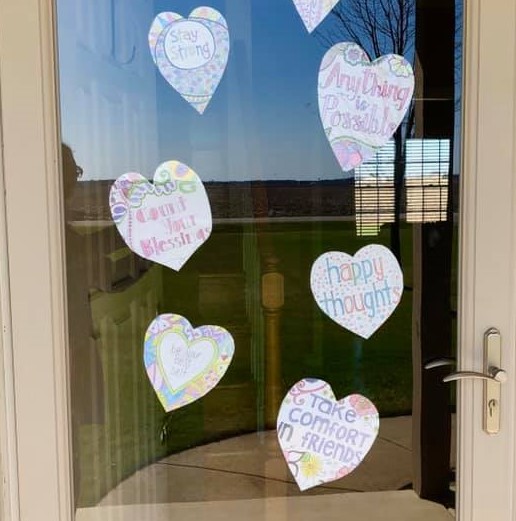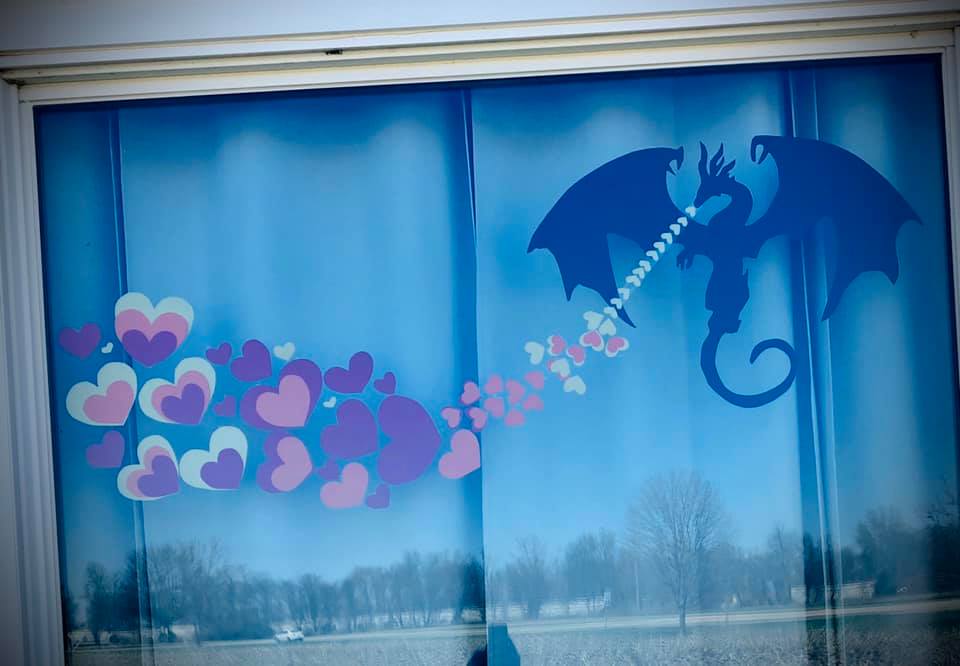 .
You may have seen a window or two in your neighborhood covered in hearts, or perhaps you noticed a teddy bear or two peeking out of windows or sitting on porch chairs. Heart and teddy bear scavenger hunts have become popular social distancing activities both for the children and families looking for the items and for the neighbors making and displaying them.
Taking part in these social distancing scavenger hunts has many positive benefits.
For those creating hearts, the creativity used stimulates the mind, makes a day inside less mundane, and can help makers relax after a hard day working an essential job.
Displaying hearts or a bear brings joy and satisfaction from knowing you're encouraging social distancing and physical activity while spreading cheer and goodwill—a sense that we're all in this together.
For Heart Hunters and Bear Hunters, children, parents, and other neighbors are given a little extra incentive to talk a walk—walk a little further. Then a spark of joy when you or a child see a window of hearts or a teddy bear not before seen. Then, there's the feeling of gratitude toward the neighbors who aided in the game's very existence and—again—the sense of community and all doing our part.
Libraries and businesses can also use heart and bear hunts to spread cheer, promote fitness, and encourage social distancing and adherence to shelter-at-home orders. Directors or maintenance staff, those essential staff that may still occasionally be going into the building, can put hearts and a message on our library windows (only by essential staff when going into the building for another reason, of course). Use social media and your library's virtual branch—your website—to encourage others to join the game and spread the cheer.
To make displaying paper hearts or a bear easy for even the least creatively inclined or teddy bear-less neighbors, IHLS created a whole collection of printable designs for Social Distancing Scavenger Hunts that libraries can share. Grab the main image from this page and create a Facebook post that sends people directly to the link to our packet link. Feel free to throw the graphic in MS Paint or another photo editor to add your library's name and logo. Or, download the packet to add your library logo to the cover page, share the packet on your website, and use your social media post to send people to your webpage. You can also visit Illinois Heartland Library System's Facebook Page and share our post for this article. Share the post in your email newsletter. If you have a public information display outside of your main building, add the printed packet there. Or, include the packet with other grab-and-go activities and have them available at school meal pickup/delivery locations.
Want more? Grab the All In Illinois window signs and hearts on the All In Illinois webpage.
There are plenty of ways for libraries to help spread a little cheer. This one just takes a few paper hearts.
Individual Hearts

Individual Bears

Grab for Social Media

Shandi Greve Penrod is the Marketing Coordinator for Illinois Heartland Library System, a state-supported library services provider for the libraries of southern and half of central Illinois.
PANDEMIC BLOG POST DISCLAIMER: Illinois Heartland Library System does not offer medical or legal advice. Please check with your medical or legal professional before making any health or law-related decisions.