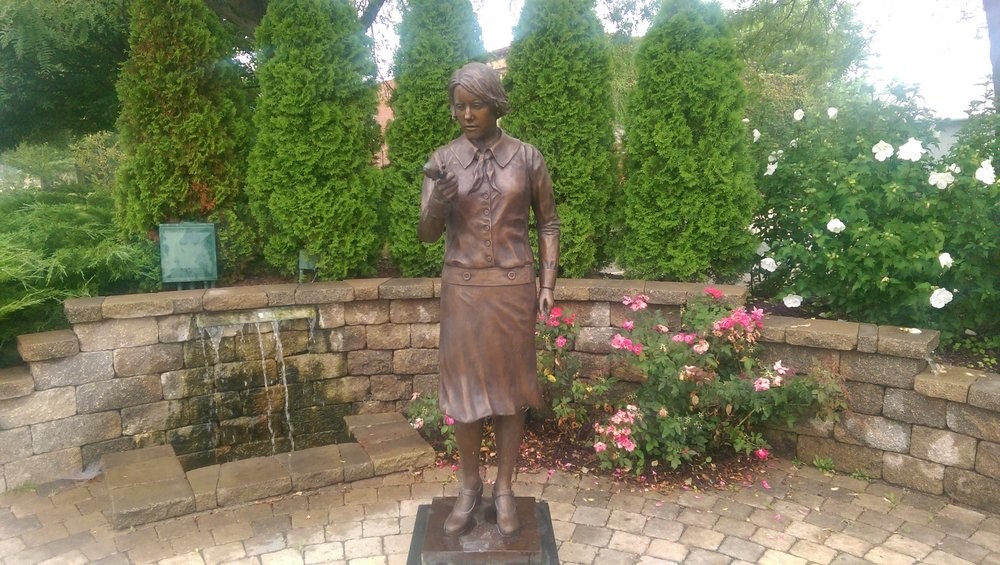 Statue in Ottawa, Illinois, on Clinton Street commemorating the women who worked at the Radium Dial Company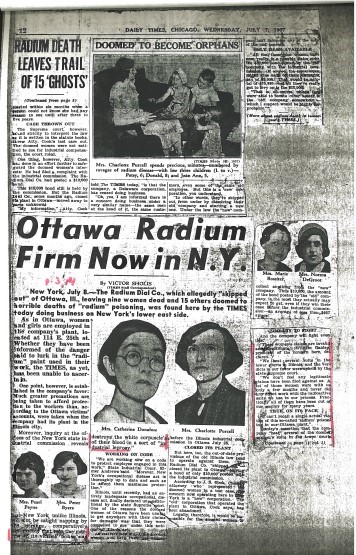 Some days, the job of a cataloger is routine; other days, catalogers help reveal heart-breaking pieces of local history. An otherwise routine day became one of the latter when a local researcher and author, Ross Mullner, donated his collection of articles about the Radium Dial Company "Radium Girls" tragedy to the Reddick Public Library District, a RAILS-member library in Ottawa, IL.
These articles, part of Mullner's research while writing his book Deadly Glow: the Radium Dial Worker Tragedy, documented the stories of the women who worked in the Radium Dial Company factory painting clock faces with a mysterious new substance called radium. Assured by their bosses that the luminous material was safe, the women literally shone brightly in the dark, covered from head to toe with glowing dust. As holders of a coveted job, these "shining girls" were considered the luckiest women alive—until they began to fall mysteriously ill. As the fatal poison of the radium took hold, they found themselves embroiled in one of America's biggest scandals and a groundbreaking battle for workers' rights.
Many books have been written on this subject, as was a well-received play titled Radium Girls by D. W. Gregory; an animated short, Glow, by Jo Lawrence; and a documentary, Radium Girls, by Ginny Mohler and Brittany Shaw. In this case, the library didn't need Mullner's book cataloged but rather his scrapbook of research articles. Creating an original bib record of a one-of-a-kind piece of local history, such as what the Reddick Public Library acquired, requires extensive knowledge of OCLC standards and can be time consuming. The expert staff of the Cataloging Maintenance Center (CMC), at no cost to Reddick PLD, took that hassle off their staff's plate by cataloging the collection of articles for them under the name [Scrapbook of newspaper articles pertaining to Radium Dial Company].
One of the services of the Cataloging Maintenance Center is helping Illinois libraries catalog local history, helping make it available to the public. If you have such an item, the CMC may be able to help. Contact them at 618.656.3216 x503 or visit their webpage.
Funding for the Cataloging Maintenance Center is provided through the Illinois State Library and the Secretary of State and administered by Illinois Heartland Library System. The CMC provides statewide cataloging support for Illinois libraries including free original and copy cataloging of eligible special collections, consultation on metadata projects, database cleanup for LLSAPs, cataloging training, and more. Learn more at www.illinoisheartland.org/cmc.