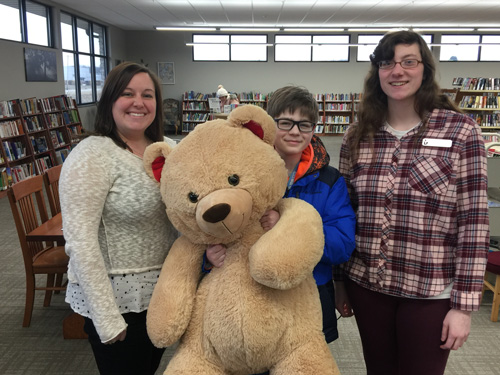 Litchfield Public Library District has had a "beary" good first year in their new home. The library held its open house on February 25, 2018, and opened for business the next day.
To celebrate their first anniversary in the new building, the library had an open house and offered a free mini-birthday cake to all patrons. Patrons also had an opportunity to take a photo with the giant teddy bear pictured here with library staff Stephanie Miller and Paige Davidson, along with patron Caden Wygal.
Congratulations to Sara Zumwalt and everyone at the Litchfield library on a very successful year!
Since its opening a year ago, the library has served an average of 3,466 people per month, circulated 50,273 materials, and added 3,891 titles to the collection, which now numbers at 38,525 books, DVDs, books on CD, and more.
The new facility was featured as one of sixteen new or remodeled libraries in the February 2019 edition of The Reporter, the magazine of the Illinois Library Association. The new building was designed by Evan Lloyd Associates of Springfield, and built by Joyner Construction Services of Springfield.
Members of the Library Board of Trustees are Nancy Dressen-Krefft, Mary Schneider, Carol Sneed, Barbara Ellis, Mark York, Lyn Lanter, and Vickie Lovellette. Library staff include director Sara Zumwalt, and Melissa Hopkins, Brandy Young, Samantha Dagon, Stephanie Miller, Paige Davidson, and Stacie Wygal. Also counted among the staff is Stacks the Library Cat, who has settled quite well into her new, larger home.
Here is an article (with photos) from the grand opening last year.