To best serve our members, the IHLS delivery department is dedicated to making sure that delivery is standardized across our service area. It has been recently determined that one of our standard delivery procedures needs some clarification.
Beginning February 2019, if you are currently receiving separate tubs (or bags) for your branches/buildings, the items will now come in your tubs/bags altogether.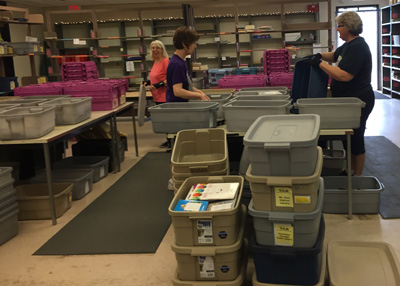 For a couple of years now, items have been sorted to the agency level. Sorting at this level means that if you have a main library and a branch, both locations have their items put into the same tub. The responsibility to sort for each branch is the library's responsibility. This is also the same for school districts. All buildings are sorted to a main drop point and that school takes on the responsibility of sorting out to each building.
This allows delivery to operate as optimally as possible. It reduces the number of tubs on the shelves, lowers the amount of time it takes to sort and helps to limit sorting errors. By partnering with IHLS to do this, it allows IHLS to provide more efficient service.
The Statewide Delivery Committee of 2013 determined there should be one drop per agency and they allowed systems to figure out how to accomplish this best.
CHAPTER 2 DELIVERY ADMINISTRATION: CORE SERVICE PRINCIPLES AND PRACTICES DELIVERY TO ONE LOCATION PER ILLINET MEMBER AGENCY VS. DELIVERY TO OUTLETS
To ensure statewide standardization, library delivery service shall be made to only one location per ILLINET member agency. Delivery to that ILLINET member agency's outlets is the responsibility of that ILLINET member agency. The delivery service provider shall determine if delivery service to outlets will be offered as a service option, and, if so, the delivery service provider shall operate the service to outlets only as a fee-based service.
Sorting at the agency level reflects this determination.
IHLS currently delivers over 4.2 million items to 521 member libraries spread over 28,141 square miles. Providing the best service to all our members continues to be our highest priority.
Feel free to reach out to me with your concerns/thoughts.
Thank you,
Susan Palmer
Operations Director
spalmer@illinoisheartland.org