If you're going to the Reaching Forward South library conference this year, come see staff from IHLS and our divisions, SHARE and the Cataloging Maintenance Center, during IHLS staff-led sessions, at our booths, and at a fun meet-and-greet party the night before the conference!

Friday, April 14, 2023
The Regency at 400 Regency Park, O'Fallon, IL
Registration Deadline: Monday, April 10, 2023
Reaching Forward South is an annual professional development conference for library support staff in central and southern Illinois. With a commitment to providing quality training and information, Reaching Forward South strives to be the premier professional development opportunity in the downstate area. 
Conference registration includes morning coffee, lunch, snacks, and a full day of programming.
The deadline to register for this event is Monday, April 10, 2023. No registrations will be accepted after the deadline.
Visit ILA's Reaching Forward South webpage
---
Presentations by IHLS Staff
IHLS encourages our staff to share their knowledge during conferences and other special presentations. Join us for one or more of these Reaching Forward South presentations led by IHLS staff.
View Presentations 

 

*Information accurate as of March 17, 2023, 10:45 a.m.

Making SHARE Work For You

9-10 a.m. Salerno Room

Dena Porter, Administrative Services Supervisor, IHLS/SHARE
Linda Johnson, Cataloger, IHLS/SHARE

Discover what SHARE offers to its members; learn about our Kit & Kaboodle program, McNaughton Books Leasing, SHARE mobile app, and a new discovery layer for PAC searching. Learn how SHARE can customize your library's overdue notices, PAC page, just to name a few. We will also discuss what features will be coming down the pipeline for Polaris/Leap.

SHARE is a division of Illinois Heartland Library System

Surveys that Don't Suck — or, Getting Better Data with Well-Written Surveys

10:15-11:15 a.m. Florence Room

Shandi Greve Penrod, Marketing Administrator, IHLS

How your survey questions are worded is the difference between getting quality data that tells an accurate picture and getting unreliable data and answers to questions you didn't really mean to ask. Do you know if your survey is collecting the information you actually want? Together, we'll take a look at what goes into a good survey, including choosing the best question types, writing clear questions, tools for building your survey, if incentives are worth it, and writing effective survey emails and intros. This session is an excellent primer for those without formal survey research training and a valuable refresher for those with prior training and experience. You'll leave with the knowledge needed to immediately review and improve an existing survey or to start writing a new one. Have some tricky draft survey questions? Bring one or two, and we'll review them together.

I Swear I Didn't Click Anything! 

2:45-3:45 p.m. Sienna Room

Troy Brown, IT Director, IHLS

With all the threats around ransomware, malware, viruses, and malicious Nigerian Princes; join me for some of the best practices around keeping your accounts secure and private and how to know the difference between being hacked and being spoofed. Hackers are using simple techniques to try to catch us slipping up, just once. Don't fall victim to their traps.

Realia: The Stranger Things

2:45-3:45 p.m. Salerno Room

Eric McKinney, Cataloger, IHLS/Cataloging Maintenance Center
Dr. Pamela Thomas, Bibliographic Grant Manager, IHLS/Cataloging Maintenance Center

During this presentation, realia will be defined, examples of realia will be shared, and a brief tutorial on how to catalog realia will be provided.

The Cataloging Maintenance Center is a division of Illinois Heartland Library System that provides cataloging services statewide.

Finding Money and Resources for Your Library

2:45–3:45 p.m. Genoa Room

Anna Yackle, Membership Coordinator–Public Libraries Liaison, IHLS
Diana Brawley Sussman, Director, Carbondale Public Library
Heather Yancy, Librarian, Freeburg High School Library
Leah Gregory, Membership Coordinator–School Libraries Liaison, IHLS

Explore how public and school libraries can find sources of funding through grants, community engagement, partnerships, and government spending projects. A panel of librarians will share their experiences, favorite resources, and tips on how to be on the upside of funding.
---

IHLS Members Attending Reaching Forward South Are Invited to Circulate with Us at Dewey's!
If you're from an IHLS-member library and you're registered for Reaching Forward South, join us the night before at Dewey's Pizza in O'Fallon, Ill., for a meet-and-greet networking event before the conference. Food and drinks will be provided on us, and there will be a cash bar. We'll be within walking distance of the conference hotel.
RSVPs are needed by Wednesday, April 5.
Space is limited! Don't wait to RSVP!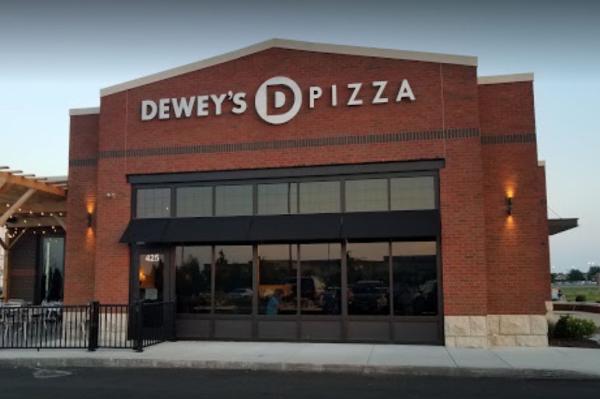 ---
Last Updated :Tue, 03/21/2023 - 18:03