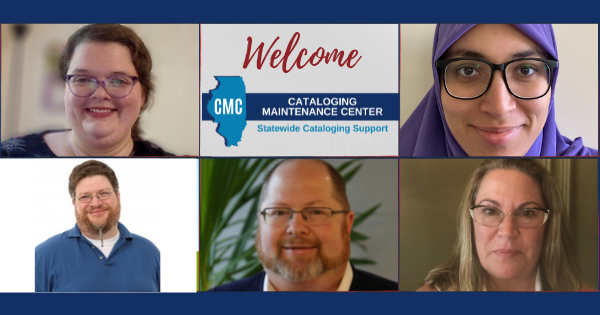 The Cataloging Maintenance Center (CMC) has added five new catalogers to its team of experts.
Mary Cornell and Eric McKinney have joined the team as permanent replacements for departing team members. Mary and Eric have backgrounds in public and academic libraries as well as working for a library vendor.
Bonnie Dauer, Hanan Jaber, and Blake Walter have joined the team as full-time and fully remote catalogers to work on a special catalog cleanup project for the Consortium of Academic and Research Libraries (CARLI). They will be working until June 30, 2022, and have school, special, public, and academic library experience.
Mary Cornell received an M.L.I.S. with a certification in Public Libraries from Wayne State University in Detroit, Mich., in 2013. Before that, she obtained a B.A. English Literature with a concentration in Creative Writing from Western Michigan University in Kalamazoo, Mich. She has worked in cataloging and technical services for public and academic libraries and, most recently, as a cataloger for Ingram Content Group and Technical Services Supervisor at St. Joseph/Maud Preston Palenske Memorial Library in St. Joseph, Mich. Originally a Michigan native, Mary is thrilled to be joining the team here at IHLS and to be back in the Midwest.
Eric McKinney began his library journey after being inspired by his librarian wife to pursue the profession as a career. After obtaining his L.T.A. certificate from the College of DuPage while working at Barclay Public Library, he learned cataloging at Rolling Prairie Library System in Decatur, Ill. He went on to Millikin University's Staley Library, where he obtained a B.S. in Organizational Leadership while working as Educational Technology/Cataloging Specialist. In his spare time, he enjoys gardening, cooking, reading, true-crime podcasts, gaming, and spending time with family—especially his wife, two dogs, three cats, and an aquarium with a grumpy catfish named Salt.
Bonnie Dauer earned her B.A. Speech Communication from the University of Illinois–Urbana Champaign and her M.L.I.S. from Dominican University. She has served as a cataloging librarian at the St. Charles Public Library and as a contract cataloger for St. Pat's Catholic School. She is a resident of Wayne, Ill., a small horse community west of Chicago, and is a mother of two adult children. She and her husband recently celebrated their 28th anniversary by attending the Chicago Bears-at-Cleveland Browns football game where they rooted for the Browns. She and her husband have season tickets to both Illinois football and Illinois basketball games, so you may see them on the Illinois campus cheering the Illini.
Hanan Jaber graduated from the University of Illinois at Urbana-Champaign (UIUC) in May 2020, earning her M.L.I.S. She worked at the UIUC Library Content Access Management department for five years and at the Rare Book & Manuscripts Library (RBML) for one year. Hanan brings with her multilingual cataloging experience as well as experience as a reference librarian. In addition to information science, Hanan has an M.S. in Religion (May 2019), and a B.S. Mathematics (May 2016) from UIUC.
Blake Walter has been a cataloger in Chicago-area libraries for 30 years before joining IHLS as a remote CMC team member. His first full-time library job was at Trinity International University, where he worked while completing his M.L.I.S. at Dominican University. Blake has worked at the College of DuPage Library; at the JKM Library, which serves the Lutheran School of Theology at Chicago and McCormick Theological Seminary; and at Northern Seminary, both on their old campus in Lombard, Ill., and on their new campus in Lisle, Ill. While working at Northern Seminary as the library director, he also served for four years as Vice President for Academic Administration with oversight of accreditation and learning outcomes assessment. It was also during this time, in 2020, when the CARLI I-Share system migrated from Voyager to their current system, Alma. Blake is pleased to return to working with Alma as part of the CMC Cataloging team.
---

Funding for the Cataloging Maintenance Center is provided through the Illinois State Library and the Secretary of State and administered by Illinois Heartland Library System. The CMC provides statewide cataloging support for Illinois libraries, including free original and copy cataloging of eligible special collections, consultation on metadata projects, database cleanup for LLSAPs, cataloging training, and more. Learn more at www.illinoisheartland.org/cmc.